Deck Cleaning To Safely Maintain Your Outdoor Living Spaces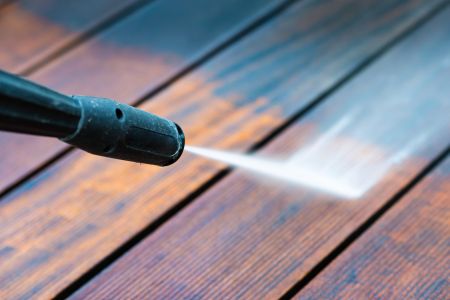 Your deck can be an incredible space both for entertaining guests and relaxing on your own, but only if the space is properly maintained year-round. Deck cleaning is an essential part of your deck's annual maintenance, and Southern Suds Softwash boasts some of the best deck cleaning in Danville. We especially pride ourselves on our soft washing skill, and soft washing is the optimum cleaning method for deck cleaning, as it safely cleans stains and slime out of wood or composite surfaces without warping or splintering the boards.
By caring for our clients with the most outstanding pressure washing for Danville locals, we can help them achieve the ultimate look and feel that they want from their homes. Everyone wants to have a clean and welcoming deck, but it's not the easiest space to maintain year-round, especially in the colder months when it isn't used as frequently. If you want a little deck cleaning to help maintain the space, or to get a leg up on some deck restoration, call us and request a free quote today at 434-548-4893.
Wood & Composite Deck Washing
As much as we'd like our decks to stay stain-and-slime-free without having to expend any effort, unfortunately, Mother Nature has other plans. Algae, mildew, mold, and other nasty and invasive organisms can swiftly settle into both wooden and composite boards, where they can make the space slippery, spread their spores around, and deteriorate your decking material. Add in some other outdoor messes like dirt, decaying leaves, bird droppings, and cobwebs, and your deck can get really spooky, really fast.
That spookiness isn't the environment you want for your deck- not even if you're planning to host a really cool Halloween party on it. What you need is some deck cleaning to wash away all the obnoxious mess, kill off the invasive algae and fungi, and keep your deck safe, slip-free, and inviting for your guests, your family- and yourself! Because our soft washing technique uses relatively low PSI, it's safer to use for deck cleaning than a standard pressure washing, which uses pressures that can damage wood or composite board. It's a safe, swift, and efficient clean-up that will make your deck a delight once more!
Precision Patio Washing
While not every home has a full-sized deck, many have a similar analogous space like a concrete porch or a paved patio. While these materials may not deteriorate as quickly as would, they're still prone to messiness and can host algae and mold growth, and constant exposure to algae, mold, and other pollutants can gradually deteriorate these spaces and lead to cracking.
Protecting your patio or porch with patio washing at least once a year is just as important as having a yearly deck cleaning done. Our pressure washing hits hard and cleans out all the nooks and crannies of your patio's surface to cleanse it of pollution and mess, keeping your patio safe and clean for another year!
ELIMINATE YOUR EXTERIOR DIRT! CALL THE DANVILLE PRESSURE WASHING PROS!