Porch Cleaning & Patio Washing For Easy-To-Enjoy Exterior Spaces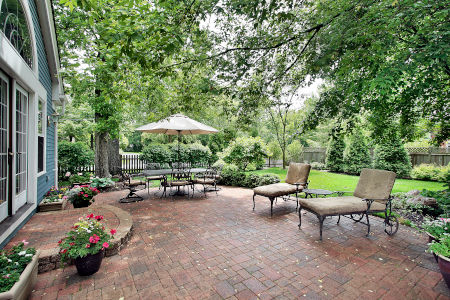 Your Danville home should have clean and comforting outdoor areas where you and your family can relax at the end of the day. To keep these spaces fresh and clean of distracting stains and allergenic growths, invest in a little patio washing! Our team is excellent at keeping all outdoor hardscapes free of ugly stains and deteriorating pollutants, and our patio washing service will help you easily maintain comfortable and inviting home outdoor spaces throughout the year. We take great pride in delivering locals the best pressure washing for Danville- count on us to perfect your patio or porch!
When you want to enjoy the lovely weather outdoors in Danville, count on Southern Suds Softwash to protect your home's outdoor spaces with our helpful patio washing service. If you're interested, give us a call at 434-548-4893 and request a free quote.
Porch Cleaning Pros
Like other paved or concrete hardscapes, porches and patios are vulnerable to all sorts of messes. Any surface that can harbor moisture and sufficient warmth can be affected by mold and algae growth. Dirty feet- or dirty paws- can track grass and dirt onto your patio and grind it into the surface. And as we all know, birds aren't shy about doing their businesses wherever they please- and if your patio is uncovered, it may be a target! All in all, just like any exterior surface, your patio or porch will get messy over time.
Cleaning it up again doesn't have to be a laborious process though. While simple maintenance such as sweeping the space weekly can help your porch stay cleaner longer, when it's finally due for a deep clean, our patio cleaning service will get the job done fast. By pressure washing the surface with eco-friendly but antibacterial cleaners, we can get in deep to force out gross pollutants, unwanted growths, and stubborn stains. In just a couple of hours, we can have your patio or porch looking as spotless as the day it was finished.
Deck Cleaning For The Ultimate Outdoor Gathering Space
Instead of a patio or porch, many homes have large decks built out of wood or composite board. Because wood and composite boards are softer materials than concrete or brick pavers, they need a softer cleaning. That's why our deck cleaning is a distinct service from patio washing. Unlike patio washing, deck cleaning is a soft washing service. We use low-pressure techniques to wash out obnoxious stains and kill mold and algae growth to restore your deck and make it an inviting outdoor space for your family and your guests once more.
ELIMINATE YOUR EXTERIOR DIRT! CALL THE DANVILLE PRESSURE WASHING PROS!