Thorough Graffiti Removal, Done Right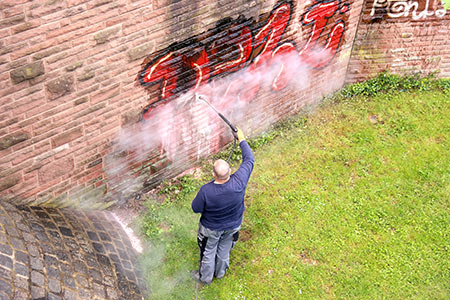 The pressure washing pros at Southern Suds Softwash are excited to offer graffiti removal for property owners in Danville and the surrounding areas. If you're looking to keep your property in the best shape possible, contact our pressure washing team! We'll make sure that any graffiti on your exteriors is cleaned away completely, leaving behind a fresh and clear surface.
Graffiti can be a real problem when it shows up on your commercial or residential property. Fortunately, when you invest in a professional graffiti removal service, you can keep your business clean while also improving the property value of your entire neighborhood. At Southern Suds Softwash, we assess each graffiti removal project on an individual basis to make sure that you're getting the best service possible. After all, our experts want to make sure the project is done perfectly the first time!
Make sure to look into all of our amazing commercial pressure washing services, including exterior building washing and others! Give us a call, and we'll set you up with a free quote and consultation today.
Expert Spray Painted Vandalism Removal To Quickly Get Rid Of Your Vandalism
Graffiti not only brings down the value of your property, but if your a business owner, it can also put your entire business on hold! Vandalism can give customers the impression that you don't care about your business, and you might end up losing clients in the process. This doesn't just lose your business sales; it also interrupts the day-to-day running of your business.
For dealing with graffiti, contact a pressure washing team that specializes in graffiti removal, like the pros at Southern Suds Softwash! We offer timely cleaning that can negate all the worst effects of vandalism, plus we can ensure that the graffiti won't have time to stick around on your property, leaving you with surfaces that are clean and fresh.
Spray Paint Clean-Up Restores Your Property's Exterior Surfaces
At Southern Suds Softwash, we know how important it is to have a property that is free from graffiti and other signs of vandalism. That's why we offer some of the best graffiti removal services in all of Danville! When you invest in a graffiti removal company as soon as possible, you aren't just getting your building clean; you're helping to restore trust in your building and your neighborhood.
If you're having issues with graffiti on any of your buildings, call the graffiti removal experts at Southern Suds Softwash and schedule a service with our Danville team.
ELIMINATE YOUR EXTERIOR DIRT! CALL THE DANVILLE PRESSURE WASHING PROS!