Red Clay Removal To Thoroughly Wash Away Stubborn Stains In Danville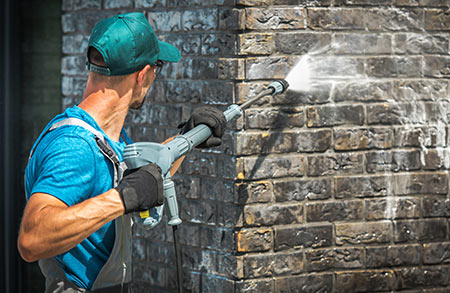 Is your brick or concrete plagued with red clay stains? Call Danville's red clay removal specialists to pressure wash your worries away and leave your exterior surface looking like new again.
Southern Suds Softwash is proud to offer pressure washing for Danville, this includes those tough jobs like stubborn rust and red clay removal. The iron oxide in red clay makes it hard to lift from surfaces, meaning it takes more than some hard scrubbing with a brush and garden hose to do the job.
At Southern Suds Softwash, our skilled cleaners have the knowledge and experience, plus the latest tools to remove deep, troublesome stains like red clay that can make a surface look grimy and uncared for.
If you need rust or red clay removal for your residential or commercial property, then don't hesitate to call us today at 434-548-4893 to book your next cleaning.
Red Dirt Stain Clean Up
Substances like red clay can be a beast to remove. The iron oxide (AKA rust) can seep into porous materials like brick or concrete and leave unwanted stains that you might feel are impossible to remove. Thankfully the pressure washing team at Southern Suds Softwash has the solution for you.
Anyone who has dealt with red-clay stains knows how troublesome they can be. And no matter how you try to avoid them they have a habit of popping up and causing problems. Red clay's iron oxide isn't simple rust but is often used to color stains and paints, meaning once it touches a surface like brick, it seeps in and quickly discolors the material.
With the right cleaner and the right pressure, Southern Suds Softwash makes red clay removal look like a walk in the park. Our background means we're prepared when you need us. Don't waste your weekend sweating the small stuff! Call and let us work our cleaning magic to leave your exterior surface stain-free and looking new again.
Customers will be amazed to see the difference one pressure washing session with us can make. If you need red clay removal for your property, call Southern Suds Softwash at 434-548-4893 to schedule a cleaning.
Rust Removal
Rust is a problem you don't want to get out of hand. It can quickly spread through cracks and along edges creating a massive stain that is constantly eating away and weakening your metal. If you have a commercial site with outbuildings and large industrial equipment, rust is the last thing you want to deal with.
Southern Suds Softwash offers rust removal services to Danville area residents. So if you've tried it all, or you're wondering where to start, call the pros at 434-548-4893 to help you out.
Say goodbye to rust and hello to a refreshed surface with rust removal from the cleaning experts at Southern Suds Softwash.
ELIMINATE YOUR EXTERIOR DIRT! CALL THE DANVILLE PRESSURE WASHING PROS!