Gutter Cleaning To Wash Downspouts For Free Flowing Gutters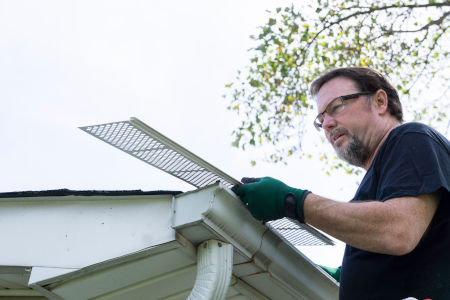 Good, well-working gutters keep your Danville home safe from inclement weather all year round, and gutter cleaning keeps those gutters in great shape so they can always work for you and your home. Gutter cleaning is an important part of home maintenance, particularly during seasons when debris is more likely to build up in them, such as when the leaves come down in the fall. Despite being a necessary part of home maintenance, though, many homeowners avoid doing their own gutter cleaning.
We can't blame homeowners for being reluctant to tackle their gutters. It's a lot of hard work that involves the use of a lot of tools and safety gear, it requires a lot of time and preparation, and the risks involved from potential falls, scratches, bites, and stings from potential pests or bugs, or exposure to bacteria in decaying debris can make it a dangerous chore. Our gutter cleaning offers Danville homeowners a simple, stress-free, and safe solution. Our skillful pressure washing technicians will do a quick and efficient job of thoroughly cleaning your gutters.
Southern Suds Softwash always works hard to provide helpful residential pressure washing for Danville locals. When your gutters need a good clean, don't break a sweat over them- come to us. Call our crew at 434-548-4893 and ask for a free quote for our gutter cleaning today.
Washing Out Downspouts
Even if you've meticulously gone through each visible inch of your gutters, no gutter cleaning job is complete until the technician has ensured that your downspouts are empty too. No matter how clean your upper gutters are, if debris is stopping up your downspouts and preventing water from flowing out the way it should, your whole gutter system is compromised.
After emptying your gutters, we run a directed pressure washing spray to dislodge any potential debris trapped inside your downspouts. We check each one thoroughly to ensure that no mess is left over so that the next time it rains, your gutters can dutifully work to keep your home safe from water damage.
High-Quality Roof Cleaning
Gutter cleaning doesn't just keep your home safe from water damage, it also gets rid of heavy, rotting debris that could cause your eaves to sag or spread mold growth and other forms of decay. It's important to keep the entirety of your roof clean and secure, though, not just your gutters. When your rooftop starts to display signs that it needs cleaning- such as large dark algae stains and debris trapped on your roof- call us and ask about our efficient and helpful roof cleaning services, which will help keep your home attractive and safe from the elements.
ELIMINATE YOUR EXTERIOR DIRT! CALL THE DANVILLE PRESSURE WASHING PROS!